For the first time ever, All For Jesus presents their life-changing curriculum, Abiding in the Vine in a digital experience to meet you right where you are.
The Abiding in the Vine Digital Experience will include:
- 8 hours of leader-guided learning from All For Jesus founder and The Blessings of Unity author, Richard T. Case
- Downloadable workbook that follows the eight 1-hour learning sessions
Course Description:  
 Everyone knows that there's a profound difference between simply studying material and actually experiencing it in a hands-on, personal way. This is essentially the difference between "bible study" and "abiding in God's Word." Once we learn to abide, our relationship with God and His Word will never be the same! This course takes us through God's plan for exceptional living, what it means to truly abide in Him, and the beautiful fruit of abiding. As we learn to abide, we will learn how to step into true forgiveness (for ourselves and others); we will understand what it means to be led by the Spirit and experience the blessings of unity; and we will discover the message of hope and restoration God has for every one of us! We will learn the joy of daily abiding in intimacy with Him and hearing His voice as He leads and guides us in wonderful ways. Our view of time in God's Word and prayer, and relationships with others will completely change in such a way that we will never again experience a "dry time". Instead, we will experience every day, a life of enjoying walking with God in a sweet way. Nothing will be better.
What should you expect:  
This course is set up differently than most other studies you may have completed. You will spend the majority of your time purely in God's Word, allowing the Word to speak to you in a very personal way. It is not a formula for success that you are "supposed to follow" to achieve a certain level of spiritual growth. In fact, it is just the opposite. It sets up the opportunity for you to connect to the Vine (Christ) who is the life. As you spend time abiding in His Word, you will learn to receive and to enjoy being the "receiver."  That is our prayer - that you would thoroughly enjoy what you are receiving by being in the Word as you are led by the Holy Spirit; and letting the Word speak to you individually. His Word will become living and active in your life, and your hunger for connecting with Him will grow!
Why take the course.
We all enjoy studies that teach us new and interesting things, or that offer a fresh perspective on something we have already learned. However, this study goes far beyond just that! The most common response from someone who completes this study is "It changed my life!" And it will change yours too! This study focuses on one of the most important things that Jesus taught in John 15:5: "Apart from me, you can do nothing." If you, like so many other believers, ever struggle to have regular time with God or are not experiencing deep, life changing time with God, it is because you have not been taught to "Abide". This course provides the tools needed to set each person on a course for the rest of his/her life to have this deep, abiding relationship with God that will never end, and will just keep getting better and better - a lifetime of wonder and adventure. Who wouldn't want that?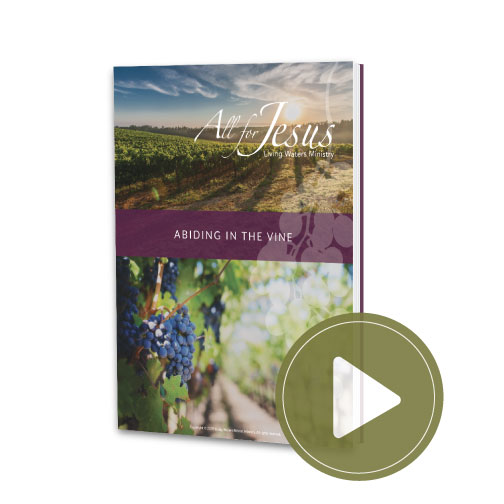 COURSE INCLUDES A WORKBOOK TO BE DOWNLOADED - AVAILABLE WITH LESSON 1